News

Affordable Art Fair
NY NY March 24-27
Group show
"Small works"
Group Show
December 2021
"Thru Her Eyes " Women's Figurative Show
July 2021
J
Upcoming Exhibitions:
"Aqua Art Miami" December 6-10 2017
Solo show at Gallery 300, Santa Rosa, CA from May 12 to June 17, 2017 – opening with a Reception on May 12 from 5-8PM
PRESS
Davis alumna presents art exhibit inspired by women's rights
Jennifer Hirshfield explains importance of being present, painting politics
It's in your newsfeed, it's part of your dinner conversation; it's seemingly unavoidable. Politics is everywhere — in 2017 more than ever — so when painter and Davis alumna Jennifer Hirshfield tied her smock and picked up her paintbrush, she disregarded her teachers' warnings to keep paint and politics separate.
"We always try to stay away from politics in art — but not anymore," Hirshfield said. "All bets are off right now. […] I couldn't not do it. I couldn't ignore it."
The Santa Rosa based painter's exhibit, Hineni… Here I Am, is her most recent body of work; it includes portraits inspired by women's rights and the Women's March. The exhibit is currently showing at the Walter A. Buehler Alumni Center, where it will remain until March 31.
"The actual body of work was, to a tee, influenced by politics and the Women's March," Hirshfield said. "I learned under the great artists of the Bay Area Figurative Movement, so right now, working with a figure, some of those figures were actually modeled from women at the march. I'm definitely influenced by what's going on right now."
Hirshfield describes her work as a manifestation of the philosophy of "being present." First hearing the term through Leonard Cohen's song and album You Want it Darker, Hirshfield's exhibit pays tribute to the Hebrew phrase "hineni."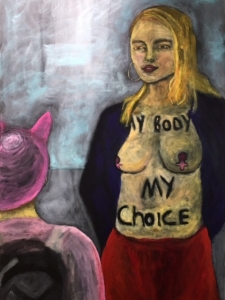 "More specifically, it means 'Here I am,' and it's interpreted as 'Being present,'" Hirshfield said. "In this particular body of work, I felt it was more about being unapologetic about your beliefs […] Kind of of like: this is what I got; this what you get."
Hirshfield places strong emphasis on this notion of being present. The culmination of her politically-charged art highlights the intensity of politics in everyday life.
"Even though it's a Hebrew word, it's the Buddhist aspect of ["hineni"] that influences me — being present," Hirshfield said. "And that includes everything from sitting here under these blooming trees to my ocean paintings of Annadel [State Park]."
Hirshfield explained that after she was diagnosed with breast cancer, "being present" became the centerpiece of her solace. She acknowledges that it was this diagnosis that encouraged her to pursue her art more seriously.
"When I moved back [to California], I actually got breast cancer," Hirshfield said. "At that point I said, okay, I've studied psychology, I've taught primary education […] but art was my passion — it was where I was going to go."
Her love for art was cultivated during her studies at UC Davis. Graduating in 1987 with degrees in both art and psychology, many of Hirshfield's art lessons were taught by internationally-recognized painters from the Bay Area Figurative Movement.
"[In Davis], the academia is mixed into the town," Hirshfield explained. "So for instance, if you're going to have a show, there's all these references to the professors that you learned under. Or even having shows supported within the art department, like by Manuel Neri — the way he worked with us one-on-one, and he integrated himself into the campus. You'd be eating bagels together with your professor in the Coffee House. There was not a big boundary between being a professor and being a student. […] There was always this integration of the creative world connected with the actual people you're working and learning under."
After many years of painting and teaching, Hirshfield's art comes full circle; Hineni…Here I Am, is showing on the same campus that kindled her passion in the first place. She hopes, too, that the Pence Gallery may pick up the exhibit.
"For the women's studies majors, I think it would be great for students to come through. For anyone this interested in women's issues, I really want to reach out and say, 'Come see the show,'" Hirshfield said. "At the alumni center, one girl who worked there looked at the piece and said, 'Thank you so much for doing that piece,' and that piece reads, 'My body, my choice.'"
The message behind Hirshfield's exhibit is pertinent and even assertive, but its explicit imagery is simply necessary. The implications of her art are as poignant as the art itself.
"The subject matter is very forthright. There's no kind of figuring it out; it's convicted and moved and making a message," Hirshfield said. "There's one of a woman, and she has lions behind her, but a kitty cat in front — it refers to sexual assault on campuses, or anywhere for women. It's so rampant. […] And I really felt like it's a horrible subject, but it's a true subject."
But this is exactly why Hirshfield's art is so pertinent not only in its location, but in its timing. Her paintings tell a story, from start to finish, of a bleak beginning but a powerful, female ending.
"The first image is just [a portrait of a woman] from the bust up," Hirshfield said. "And she is looking pensive, sad — I wouldn't even go so far as saying crushed — but it was a very demure piece. From that, going chronologically, the last piece of the show is of two women, one with her arm out, [flexing]. And they look like all power. Like nothing is going to stop them."
October, 2014

Exciting Mid-Career Artist Jennifer Hirshfield to Exhibit Paintings at Christie Marks Fine Art Gallery, Healdsburg

Enchanting Cumulative Exhibition, "Person, Place, or Thing" Showcases the Artist's Technical and Emotional Versatility

In "Person, Place, or Thing", on view October 3rd to November 16th at the Christie Marks Fine Art Gallery in Healdsburg, California, Sonoma County-based painter Jennifer Hirshfield presents cumulative work which investigates the figure, landscapes, and the idea of place. The exhibition ties these ideas together through the use of a rich common palette and like materials. Collectively the works express a range of emotions including joy, sorrow and the excitement of life's journey. With a Reception on October 18th from 5-8PM and a Conversation with the Artist on October 30th from 6-7PM, visitors will have the opportunity to engage with this "daughter" of the Bay Area Figurative Movement. Considered a master with color, Hirshfield expresses her joyful restlessness through the application of paint with a heavy hand. These particular works enabled her to bring forth and release complex life experiences and emotions common to all, but specific to her journey.

Founded by northern California artist Christie Marks, the Christie Marks Fine Art Gallery presents solo and small group shows from local and international artists who are pushing the limits of creative expression. The gallery represents emerging, mid-career and established artists and is located in a historic bank building in charming Healdsburg, California. In addition to the gallery, Ms. Marks is an active art consultant providing services to residential, business and corporate clients.

Paintings at Sutter breast cancer reflect patient's journey to remission

Sebastopol Press Democrat
Wednesday, July 17th, 2013

Jennifer Hirshfield-Levine received her breast cancer diagnosis soon after her second child was born. What should have been a time dedicated to raising her newborn child was filled with treatment for one of the deadliest human conditions.

Now in remission, Hirshfield-Levine poured her feelings into two series of oil paintings, some of which hang in Sutter Hospital's breast cancer center.

"I first saw Jennifer Hirshfield's paintings at the Sutter Breast Care Center during their open house last March and was impressed by how they lit up the space around them," said Dr. Kalane Wong, a Sebastopol ophthalmologist. "After the crowds left, I went back to the radiology waiting room and sat down to quietly appreciate the images. It was such a visual treat to be surrounded by those four large paintings.

"Individually and collectively, they exude a wonderful sense of both peacefulness and energy. I imagine a positive, healing effect on the patients waiting in that room."

Hirshfield-Levine wanted patients in the cancer ward to draw energy from her paintings, she said, adding that she hopes her paintings provide inspiration and keep spirits high. She paints solid backgrounds with globules of bright color to help express the balls of energy she personally drew on to help her recover.

"I hope (other patients) will feel serenity, peacefulness and calm. I am so grateful I have the opportunity to show my work here," she said.